The League of Women Voters of the Plymouth Area's Sustainability Committee has been actively working on local climate and environmental issues for /how many/ years. Our continued agenda is to work so that local action is consistent with the best climate science so as to ensure a stable climate system for future generations.
Members of the LWV of the Plymouth Area are active in many of our local boards, committees, and climate advocacy organizations, including the Climate-Ready Health Plymouth Steering Committee; the Saltwater Intrustion Task Force; the Citizen's Climate Lobby; Sustainable Plymouth; South Eastern Massachusetts Pine Barren Alliance (SEMPBA); the Water Conservation Committee, and the Plymouth Select Board's Climate, Energy and Environment Task Force.
2022 priority work is on the Plymouth Climate, Energy and Environment Task Force and the Subterranean Resiliency Project.
Climate, Energy & Environment Task Force (Town of Plymouth)
The League was instrumental in the formation of the Select Board's Climate, Energy & Environment Task Force, led by Select Board member Patrick Flaherty. As part of that task force's work, League members contributed priority recommendations for immediate steps:
Declaration of a Climate Emergency in Plymouth
Pursuing a goal of 30% of the land area in Town in conservation
Creating a full-time position in the Town of Plymouth for a Climate Resiliency Coordinator/Planner
Supporting a regional coastal resilience project grant to fund research, outreach and education efforts
These priorities were approved by the Town of Plymouth Select Board on July 20, 2021.
Going forward, the Sustainability Committee will take an active role in citizen outreach and education and is currently planning a number of events, webinars, and book discussions to engage Plymouth residents.
Subterranean Resiliency Project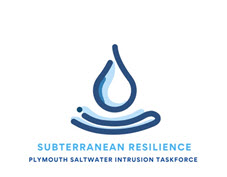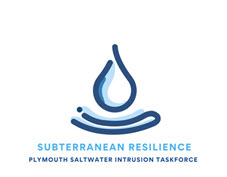 The Salt Water Intrusion (SWI) Taskforce is a network of individuals and organizations — including members of LWV of the Plymouth Area — advocating for the protection of the Plymouth-Carver aquifer. The task force solicited – and was awarded – a Municipal Vulnerability Preparedness (MVP) grant from the Commonwealth of Massachusetts. The Subterranean Resiliency Project aims to assess the Plymouth-Carver acquifer and the extent to which it is vulnerable to salt water intrusion – the process by which the balance between fresh water and salt water in coastal areas is upset and our subterranean water supplies take on more saltwater  — in order to develop mitigation plans.
This project will bring together over a dozen community groups that will work together over the next two years on research, outreach and education. The scientific assessment of water (through testing of ponds and wells) will produce data allowing visualization of the current state of the acquifer and highlight areas that need action.
The League will play an educational goal through webinars, news articles, and outreach to Plymouth villages and communities.
Its first informational presentation, on Salt Water Intrusion, is scheduled for  February 12.