Vote on the Charter May 20
A copy of the proposed charter was sent to all Plymouth residents the week of March 6. Copies are available at Town Hall, at the Plymouth Public Library and at the Center for Active Living. You can also read it online on the Town Clerk's website here.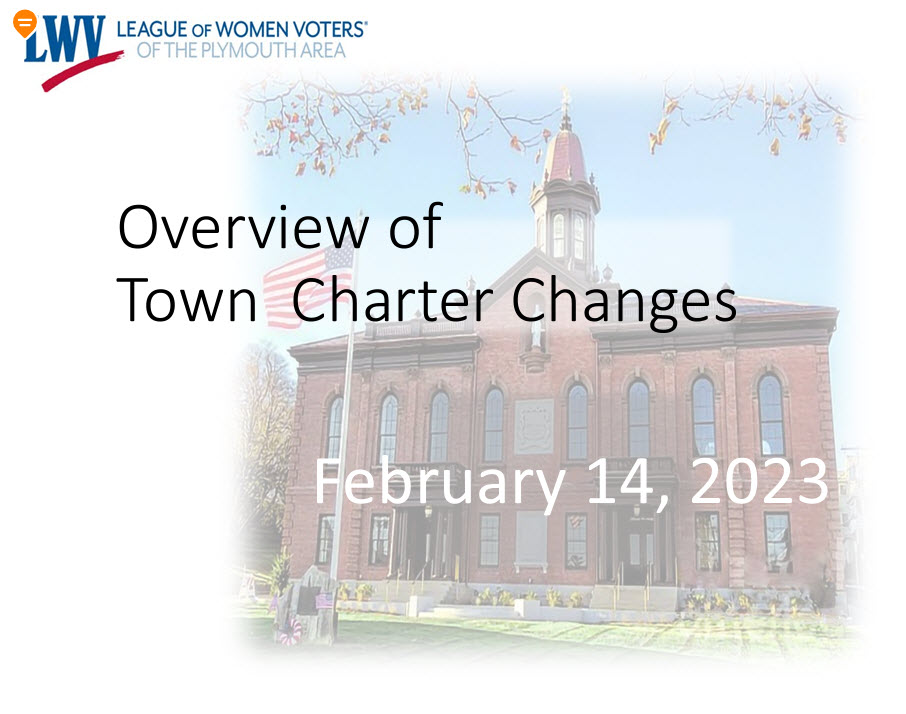 Read the League's presentation about the charter, proposed changes, and scenarios for what happens if it doesn't pass here.
Read the LWV-prepared spreadsheet that summarizes, item by item, what is changed from the current charter to the proposed charter.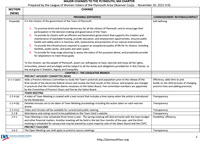 The League of Women Voters is a nonpartison organization. We do not have a position on the proposed charter. All information, in written form or at education events, is presented neutrally.
LWV Observer Corp Reports
Other Reports
In Massachusetts, a town may change its form of government by creating a new "Charter." The town must vote to create a 9-person Charter Commission. If the vote passes, the Charter Commission then has 18 months to define the changes to be made to the government, and this must be approved by the state legislature. The charter defines such things as the structure of government, including committees, departments, and boards; the budget procedure; and the authority for management of the town. The proposed charter must be voted on during a Town Election and must receive at least 50% of the votes.
The charter question  on the Municipal Ballot for Plymouth in May 2021 passed. The commission met regularly through October of 2022 and solicited public comment on a number of occasions. See the
Charter Commission page
on the Plymouth Town website for its minutes, list of public comments, and other details.
The LWV of the Plymouth Area set up an observer corps which  reported on all  meetings that it attended (see list on the left-hand side of this page). Many thanks to Lyle Lawrence and Martha Vautrain for their committed effort!
Local Media
Check PACTV for events and news about the Charter Commission
Old Colony Memorial  (https://www.wickedlocal.com/oldcolonymemorial/)  carries many Letters to the Editor and will continue reporting on the Commission's activities.