Candidates' Forums
LWV Plymouth Area has recorded the following candidates forums:
Town-Wide Offices: April 15, 6:30pm
Charter Commission Candidates: April 21, 6:30pm
Recordings are available from our home page, or from our LWV Plymouth Area YouTube Channel.
Precincts 1,2,5,6,7,11,14: Candidates Needed!
If you live in one of these precincts and have considered making a contribution to Plymouth, now is the time to step up and start a write-in campaign. Work with your family and friends to get the word out and ask your fellow citizens to write your name in on the ballot.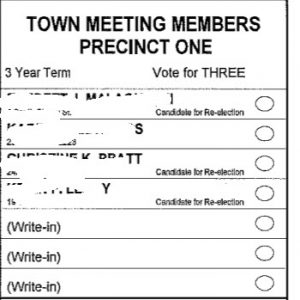 Democracy is not a spectator sport!
Plymouth Municipal Election 2021 Details
The Spring Municipal election for Plymouth is on May 15.
On this page, you will find:
Information about mail-in ballots
Important dates and deadlines.
Are you running for office? Be sure to view our informative video, "How to Run for Office."
Check your voter registration status (or register) on the  Massachusetts Online Voter Registration page. The deadline to register to vote in this election is April 23. See our Voter Registration Page for information on other ways to register.
For more information and a list of resources on the Charter Commission, see our special Charter Question Resources page.
Using Mail-in (No Excuse Needed) Ballots
Vote-by-mail regulations used in the November election have been extended through June 30th.
The application for the May 15 Municipal Election is available on the Town Clerk's webpage at 2021-vote-by-mail-application.pdf. The deadline to request a ballot is May 11th at 5pm but voters are encouraged to return their application as soon as possible.
Absentee (Excuse Required) Ballots
To apply for an absentee ballot for a family or household member, use the absentee ballot application as described on the Town Clerk's website.
You can return your mail-in  or absentee ballot application in any of the following ways:
In person, at the Town Clerk's office
In the ballot drop box outside of Town Hall
Mail it to Town Clerk's Office, 26 Court Street, Plymouth MA 02360
FAX to (508)830-4116
Email to ballots@Plymouth-MA.gov
All applications must be signed by the voter.
Important Dates
| Date | Deadline for |
| --- | --- |
| April 23 | Deadline to Register to Vote |
| May 11, 5pm | Deadline to request a mail-in ballot. |
| May 15 | Town Election |