Plymouth's Spring Town Election is May 15. The deadline to register to vote is April 23. Check our special elections page for detailed information.
Watch the videos below to hear the candidates speak for themselves.
Candidates Forums
Town-Wide Candidates: Select Board, Planning Board, School Committee.
Charter Commission Candidates
Charter Question. In addition to electing officials for town-wide offices, this ballot includes a question about installing a Charter Commission. See our  Charter Question Resources page.
Diversity, Equity, and Inclusion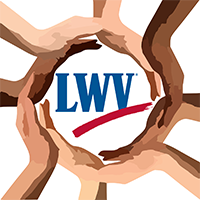 At its 2019 national convention, the League of Women Voters US adopted the national Diversity, Equity, and Inclusion Policy which clearly states the organizations' commitment to full inclusion and respect for individual differences.
The Plymouth Area LWV wholeheartedly embraces this policy. Read more about the policy and the work we are doing in Plymouth.
Download our DEI Resource Guide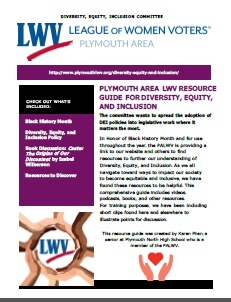 LWV of the Plymouth Area on Episode of Truth Be Told
League Member Martha Vautrain talks about the League and upcoming election details with Town Manager Melissa Arrighi and Town Clerk Pearl Sears.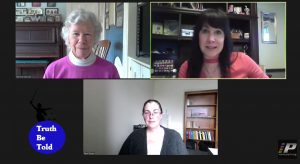 The video of this very informative event is available here.
The League of Women Voters of the Plymouth Area serves the residents of Bourne, Carver, Duxbury, Kingston, Marshfield, Pembroke, Plymouth, and Plympton.
The League of Women Voters is a nonpartisan political organization encouraging informed and active participation in government. It influences public policy through education and advocacy.