Voting Rights
The debate about voting rights legislation reminds us daily of the importance of voting to the League and the country. Click below to learn about the League's official positions and priorities.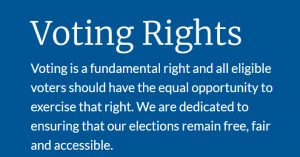 The League of Women Voters of the Plymouth Area serves the residents of Bourne, Carver, Duxbury, Kingston, Marshfield, Pembroke, Plymouth, and Plympton.
Parent Leagues
Local Leagues
We are planning lots of events in 2022 and are also happy to share events hosted by LWV of the Cape Cod Area as well.
Coming soon:
Speak Out (January 31, 5:00 PM). Join citizens' speak-out against dumping of nuclear wastewaster into Cape Cod Bay.
Common Start (February 5, 10:00 AM),a public forum and panel discussion on
developing model legislation to address the need for affordable childcare and a "common
start" in life for all Massachusetts children.
What is Saltwater Intrusion and What You Can Do About It? (February 12, 2:00 PM)
Check the Calendar page often for new events, updates, and changes to details.