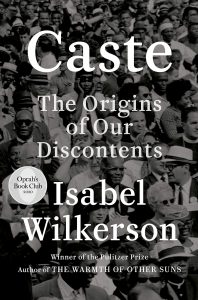 Caste Book Discussion Groups
Caste: The Origins of Our Discontent, by Isabel Wilkerson, is one of the most important books you can read.  We are pleased to offer our members an opportunity to discuss this book in depth as we continue our journey in understanding Diversity, Equity, and Inclusion.
"An instant American classic and almost certainly the keynote nonfiction book of the American century thus far."—Dwight Garner, The New York Times

"Wilkerson's work is the missing puzzle piece of our country's history."— American Prospect
To accommodate as many people as possible, we will be offering two Sections, each having two meetings:
Section A, Wednesdays at 2:00 pm, February 24 and March 10
Section B, Thursdays at 7:00 pm, February 25 and March 11
We are very pleased that Book Discussion Leader extradinaire Jennifer Harris, retired Director of the Plymouth Public Library, to lead these discussions.
Attendance is limited to 15 in each section. You must register in advance to receive the login information for the virtual meeting.
If you are interested in participating in the discussion, we recommend purchasing or obtaining the book to begin reading as soon as possible. The Library may have a limited number of copies and free downloads but as it is a relatively new book, they may be hard to come by.
We will confirm your registration by the end of January. Thank you so much!